What is Party Zone?
Party Zone is an organized and personalized party facility where your birthday child's dreams come true on their special day. One or more of our professionally trained staff members will help you to organize the party, and then leads the games and activities, explains the rules, and takes care of all cleanup.
What's the best age for a Party Zone Party?
Because we offer so many different birthday party options, Party Zone is the perfect place for children from 1 to 13. Children of all ages can participate in all the party activities.
Can I stop by and get a tour?
Of course!  We'd be happy to show you all around our awesome indoor playground! Just give us a call to schedule.
What's included in a Party Zone Party?
In a word…"everything!"  Check out our birthday package details for a complete list, but your group party will include hours of games and activities of your choice as well as pizza for the kids and a hot buffet for adults, plus all the tableware and decorations. Themed birthday parties include all theme activities, costumes, and supplies with extras like decorations are also available. Standard parties are two hours long, but we also have a three-hour party that is good for any age. This longer party is especially popular for both birthdays and first communions. Want to book an even longer party? Just ask! Every party can be extended at an additional cost. Plus, we offer food for your adult guests ranging from pizza and hero sandwiches to a hot or cold buffet.  Decorations are included in every party, though themed decorations are an additional charge.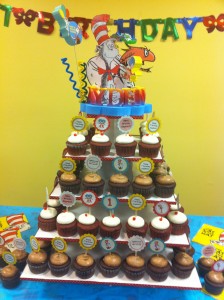 How long will my party last?
All of our parties are between 2 and 3 hours long.  And we jam pack each minute with fun! Young children are happy to go from one activity to the next, and we've learned that 2 or 3 hours is just the right amount of time for games, activities, snacks and/or a meal.
Are my parties private?
YES!  Your birthday party is always private. Your group will never be sharing an attraction or a party room with another birthday party.  There are never any other parties going on in our 4,000 square foot facility.
Who do I get charged for?
All children between the ages of 1 and 13 years of age are considered part of the party and will be charged in the package. Adults are not charged for the party activities, thought a hot food buffet can be added to any party for the adults. In that package we do charge per person.